The best time to schedule a maternity session?
I suggest we schedule the session a month and a half before your due date. That way your belly is big but you aren't to the very end of your pregnancy where you're a little uncomfortable. It's totally up to you and how you're feeling about your body. This also depends on if it's your first or second baby. Second pregnancies are always a bit bigger.
What is your availability?
I book photo sessions up to 6 months in advance. It's never too early to plan!
What do I wear?
I hate to say whatever you want but it's true. I want you to feel comfortable but it also should be something that shows off your bump. I always say to stay away from black or navy. Dark colors conceal the bump and we want to embrace it and show it off. Some mamas bring two outfits – one casual and a dress. I have found some pretty and cheap dresses at Lukalula  I also put together an Amazon idea list of dresses.
What locations do you love?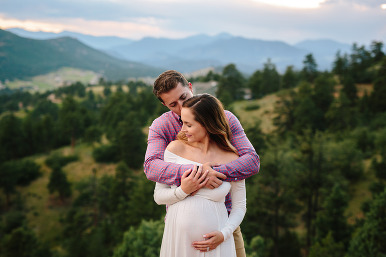 Since we live in Denver I love mountain views. There are a few parks within an hour (depending on where you live) that are gorgeous. Boulder also has some really great parks with lots of foothills in the background.
Do you travel?
The answer is yes. I have done sessions in Aspen, Breckenridge, Dillion, and throughout Colorado. I do charge a travel fee of $1 a mile.